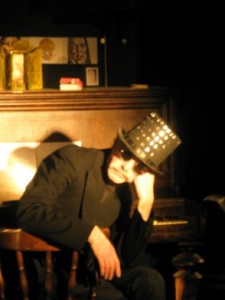 Tom has been described by the Irish Times as "an Institution in Dublin for 30 years".
His own description is equally compelling:"Tom Mathews (Born 1952) is well over four feet tall. His Cupid's bow legs and long flaming red nose have made him a legend from one end of Ireland to just slightly beyond the same end. When not drinking stout and boring everyone to tears about Groucho Marx and James Joyce he is busy at his easel or desk."
'Achievements' to date include: 'Levon' (A novel, 1984) Three collections of cartoons, criticism (Theatre, Books, Rock Music), Thirty one man exhibitions (cartoons) and two serious ones (paintings). He has exhibited at the Living art, National Portrait Show, and the RHA.
His 'Keats and Chapman' (A collection of improbable tales) was published by New Island Books in October 2008. His collected verse is published as The Owl and the Pussycat (Dublin, Dedalus Press, 2009), with a new collection due.
For many years, his Artoon appeared every Saturday in the Irish Times.
Listen to Tom Mathews on The Parlour Review
---
EXTERNAL LINKS
Tom Mathews at Irish Comics Wiki
Tom Mathews at Dedalus Press
---